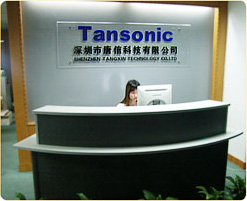 SHENZHEN TANGXIN TECHNOLOGY CO.,LTD.built up in 2003 ,it is a high-tech enterprise that is engaged in professional Telephone Voice Recording System ,PBX Group Telephone Management software products research and development, production, sales and service. Since the company was founded, all sincerely unite as one, forge ahead, brave in exploitation, technical innovation.In these ten years,our R & D of new products constantly emerging,and provide the society professional products and thoughtful service.Through years' unremitting efforts, we put out the"Tansonic PBX Charge Software" , "Tansonic Telephone Recording System","Tansonic Mini Call Center system" and a series of products.These products have been widely used in Administration,Police,Bank , Securities,Electric power,Communication, Hospital,Insurance,Logistics ,Trade and some enterprises and so on.
In the course of development,our company is working together with Shenzhen Cesller Company,and put out the "3S Call Management Software", "Group Phone Call Management Software","HB Mini Call Center Software" , "WS824 Mini Call Center Software", "HB Group Telephone Recording System" and a series of products,.that are dedicated to the group telephone billing, programming and management.
According to each different enterprise's demand,Our company put a lot of energy and money on the Telephone Voice Recording System project, and made the single configuration to multiplicity. At present,Tansonic Telephone Recording System hardware structure has three series,there are USB series,PCI series and Embedded Series. The USB series has Model TX2006U1A,TX2006U2A、TX2006U2G、TX2006U4、TX2006U8、T5U2、T5U4、T5U8、T5U16 and so on.. PCI series has Model TX2006P311、TX2006P311-8A、TX2006P312、TX2006P312-16A、T3P08、T3P16、T3P32、T3E1、T3E2、TX2006G201、T5P08、T5P16、T5E1、T5E2 and so on.Embedded series has TX100、T3E08、T3E16、T3E32、TX32 and so on . The Software version has TX2006、T3、T5 and industry professional version. As our company with independent research and development and mastery of core technology , the product features are constantly updated and product software can enjoy forever free upgrade service. For special users, company also can provides OEM services.Tansonic Telephone Recording System has won the CE ,FCC certificate in June,2007 and sold into occident market.
Tansonic regards person with ability as a strong capital, the high-efficient group made up of outstanding talent and good at cooperating、good faith unit. It is the strength resources of enterprise's development. Tansonic, relies on the rich technological capability, has already become the one of the largest manufacturers of Telephone Recording System products. We are always steadfast to follow the tenet of "Quality is the first, Customer is the highest ", With the high-quality products, good prestige, we serve the masses of users whole heartedly.