Product Description:
Tansonic TQ19 Series Embedded Voice Logger is a stand-alone unit that provides 4 /8 /16Ch analog telephone lines recording.There are three model TQ1904、TQ1908、TQ1916.The recording channel adopts high resistance parallel connection.Supports Real time monitoring,Caller ID records,Log Management,8 times compression,Unanswered Call Records,Extension Calls Records,Line AGC,CID POPUP,Department Statistics, Disconnection Alarm,Email Alarm,CMS,FTP data backup,Smart Client Management,WEB Query,Cloud storage and other functions. Supports one Client software in the LAN default((which can be added Client software quantity) ,just input Server IP address then can do some monitor,query operation.Simple operation, multiple permission settings, Refine management level..It can be widely used in commercial call,electric power dispatch,hotline call,complaint call,financial and stock,auto 4S shop,public security alarm,aviation, railway and transportation,and so on.
Applicable line :
Analog land line or trunk, extension lines, virtual network , radio, intercom systems, and so on.
Application features:
1.Monitoring people service atttitude,technology level,Examining working ability of service person; Analyzing product problem,Collecting customer's advice in order to provice with product improvement base.
2.Monitoring enterprise operation and checking utilization rate of call and human resource for high rank people.Can also find action of benefit damage quickly and do some relevant measure to prevent that.Futhermore,phone recording system can make people devote themselves to work and improve working efficiency.Therefore can search new sales potential and orientation,also can provide with unexpected law proof for high rank people.
3.Helping sales know well about customer's status in time and improving rate of business conclusion so that enterprise can trainsales pointedly.
4.Offering evidence directly for some special occasion,also can play these information in the player.
5.Offering effect evidence for other field.
6.Pop up the customer detailed information.
Features:
» Real time recording
When the logger device is being used ,the system will automatically record the voice of both party .The recording file will be saved into the harddisk of PC. At the same time,system will record dial in/out number and conversation date,time and so on.It will stop to record when the calls on-hook.
»Real time monitoring
Can monitor the channel on conversation without any disturbance to the line.
»Caller ID Records
Dian in/out number automatically records in the software,so that convenient for future inquiry.
»Log Management
When an incoming call was unanswered, the system would detect the CID and record it automatically
»Extension number records
When connecting to a PBX system,using our Startup pbx tool in our software,then it will can records all the extension number and save lots of costing.
»Line AGC
Can slove the problem about both sides conversation sound no imbalance,like one side sound small,and the other side is too big,so that can hear the clearly sound.
»POPUP Management
It will pop up the client detail information of incoming call on the screen of computer.. It also can record your client address,telephone number, business record and so on contents.This function becomes your business helper. Support user rights management, different levels of different permissions, blacklist, VIP customer phone number automatic reminder, caller information can be sent to designated agents or working groups as required.
»Email Alarm
The user can set more kinds alarm remind,such as the harddisk space lack of,recording system disconnection,conversation delay and so on .After setting them,the system will send email to inform the administer.
»FTP Backup
It can upload the recording file to Server by FTP upload function,so that you can listen the recording even if you go on errands.
»Intelligent Client
For each system is equipped with intelligent client software.After install the client software,it can do some monitoring, searching and cabel status and other functions.
»WEB query
Enter the IP address in IE browser then can inquiry the details of software. Support Iphone , Android system.
»Cloud storage
a.The recording files can be stored in the cloud server.
b.CMS features,apply for Cloud server and Database then can manage all the recording file in central management system.
»CMS Features
CMS with Smart Client software and Central Management software.It can manage all the location recording file on LAN or WAN.It can obtain the host IP without manual search. It can do some monitor and search and also set the line number, department, and permissions of each device.
Technic Parameter:
Channel: TQ1904、TQ1908、TQ1916. There are 4ch,8ch,16ch.
Size:220mm×140mm×40mm
Hard disk:SSD 64G
Memory:2GB
Voice file: WAV,MP3
Compression ratio: 8 times
Recording start mode:Voltage、Key、Sound control.
Consume power maximai: 15W
Temperature: -20℃-60℃
SNR: 60dB
Humidity: 5%-85%
Requency: 300-3400Hz(±3dB)
Input impedance: ≥1.5MΩ
Data speed: 64kbps/1s
Distortion degree: ≤2%
Call number: FSK、DTMF
FSK concoct mode: Logic 0(: 2200Hz±1%), Logic 1: 1200Hz±1%
DTMF code: 0~9、*、#、A、B、C、D

▶Built-in 64GB SSD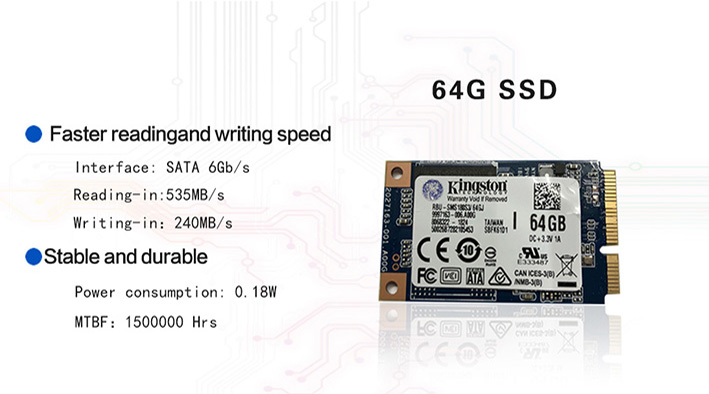 ▶Features: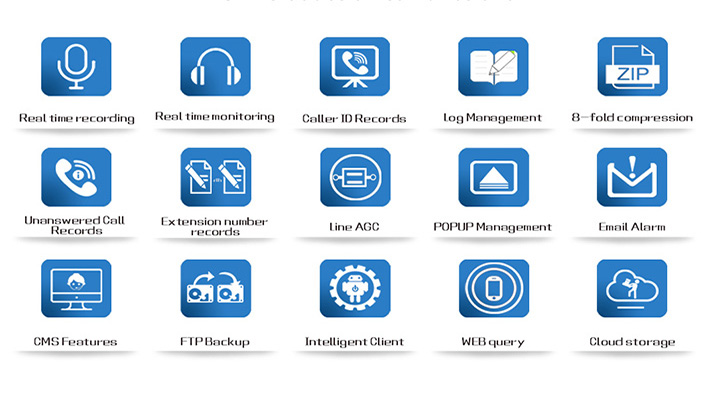 ▶Software interface:
1.Device interface, 01 and 02 channel are in recording status , as shown below: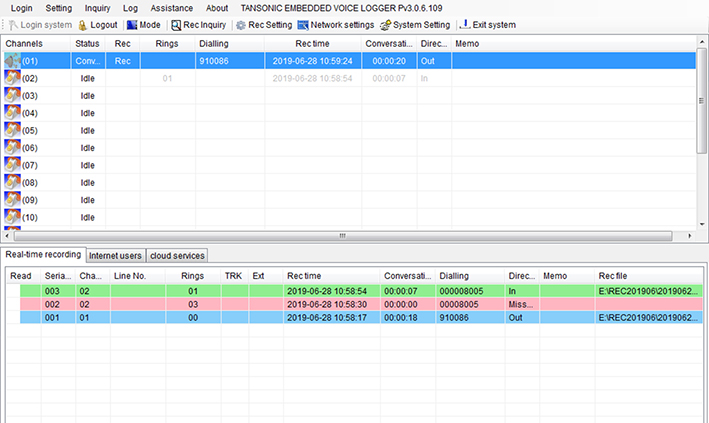 2.channel in the real-time monitoring state. As shown below: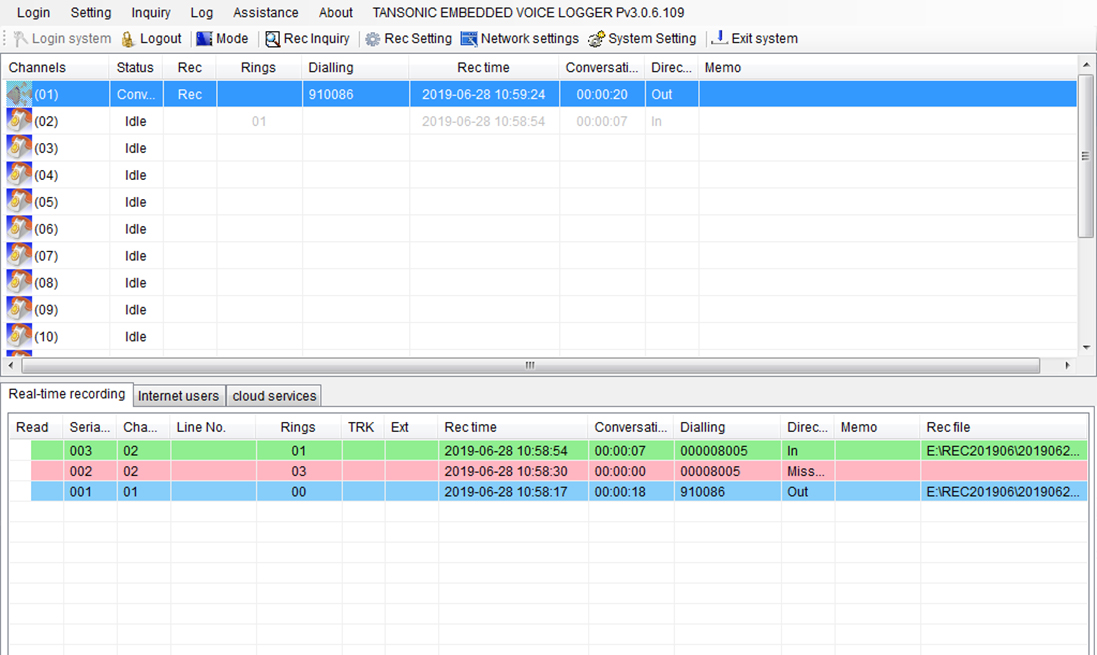 3.Dial-in number in the field. As shown below: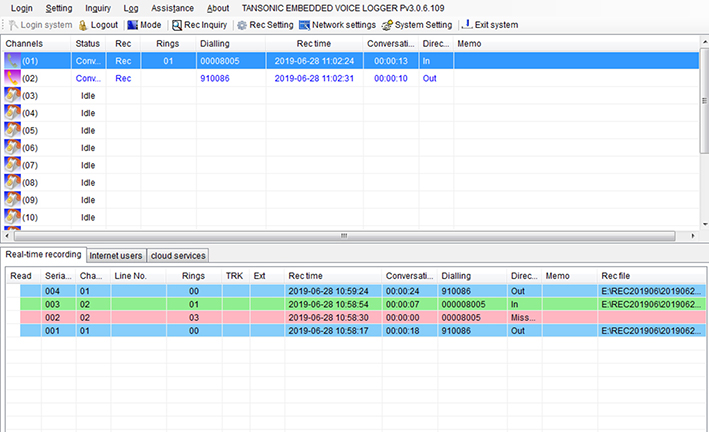 4.The event log shows a detailed record of all the steps. As shown below: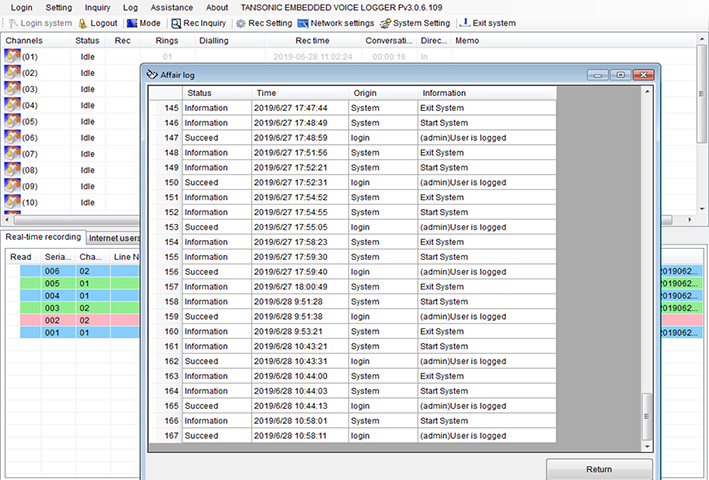 5.Unanswered call records interface as shown before: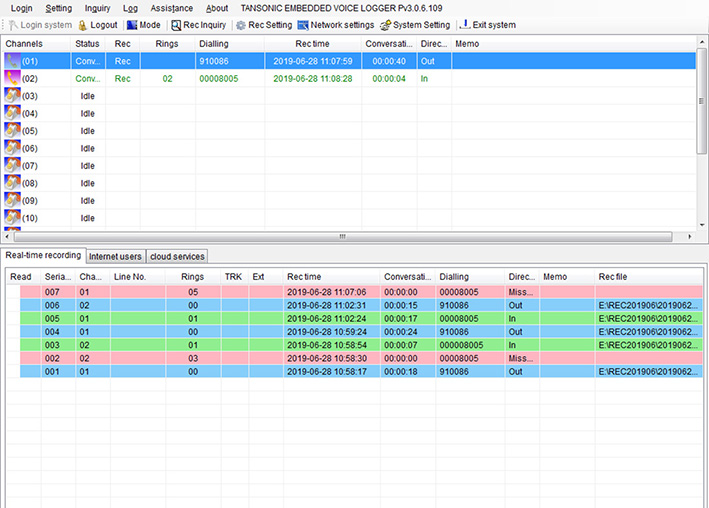 6.When connected to the PBX system, the extension number can be recorded .As shown below: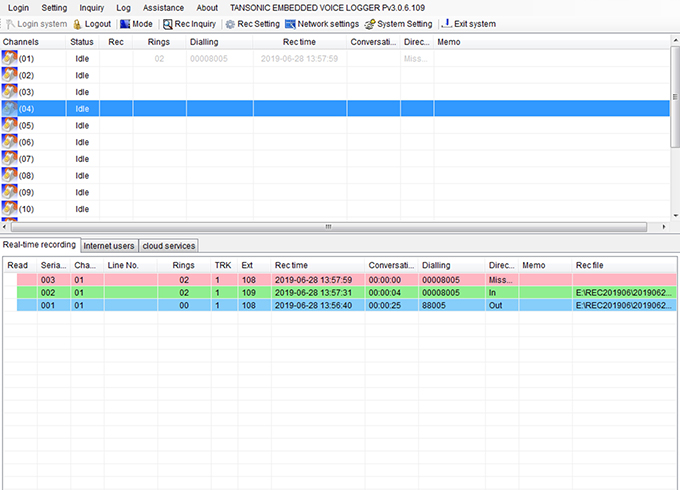 7.Line AGC,as shown below: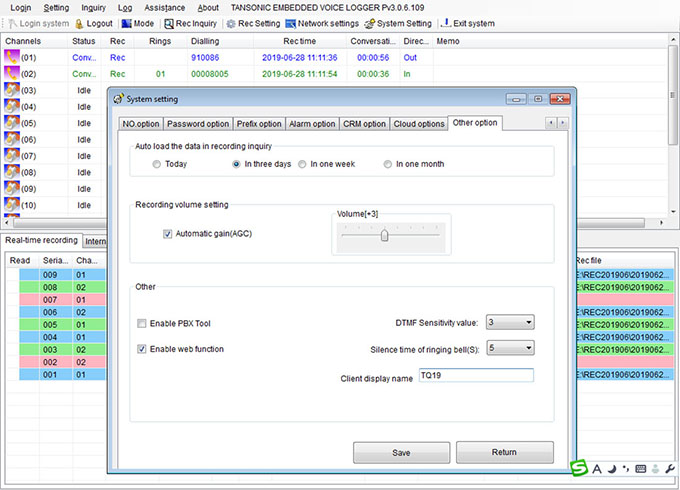 8.POPUP interface as shown below: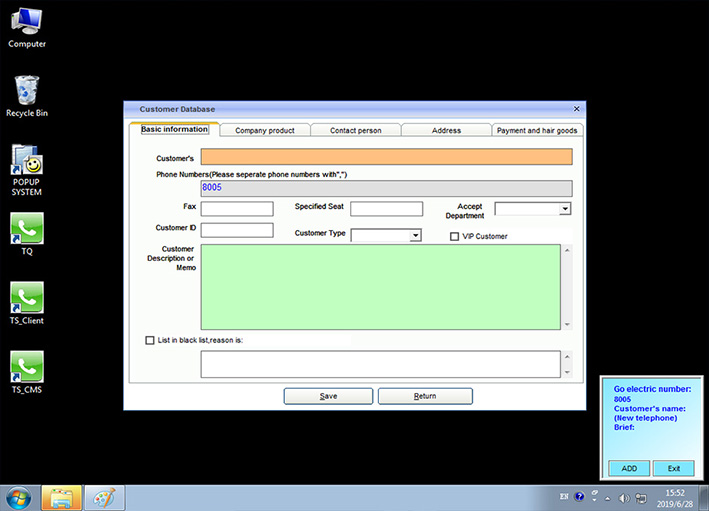 9.Email Alarm as shown below: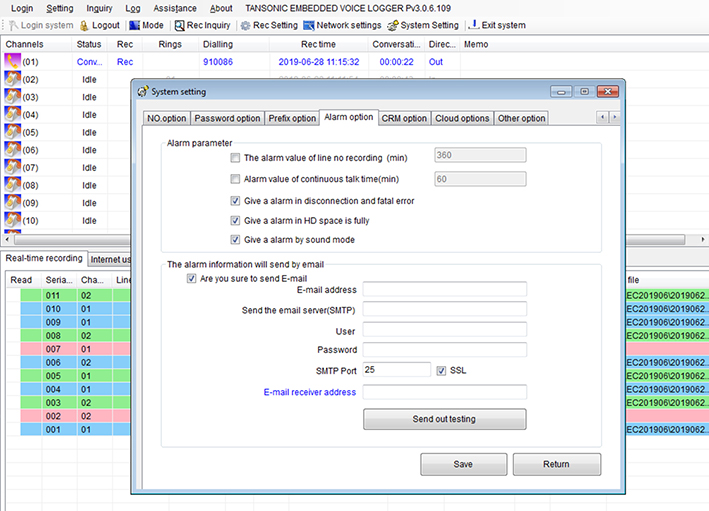 10.CMS interface as shown below: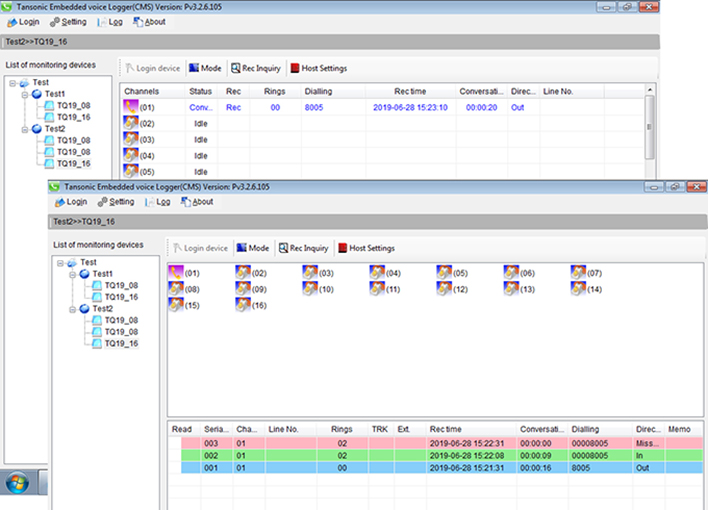 11.FTP Backup interface as shown before: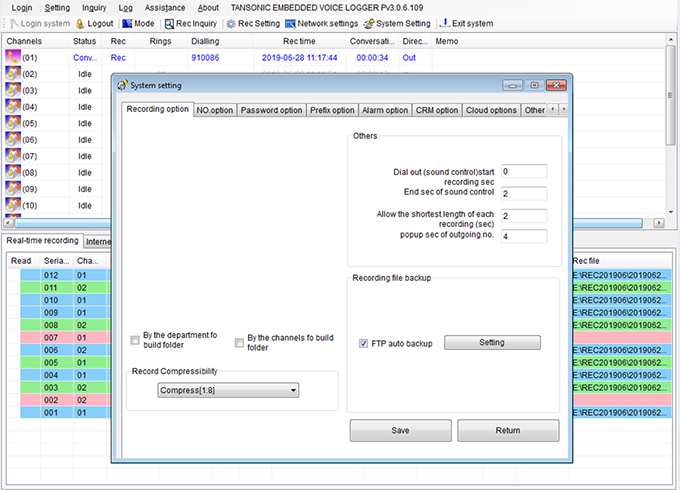 12.WEB Query interface shown as below: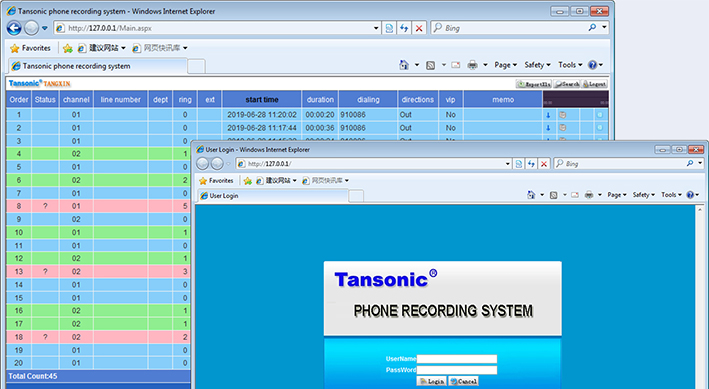 13.Cloud storage interface as shown below:



14.Smart Client software interface as shown below: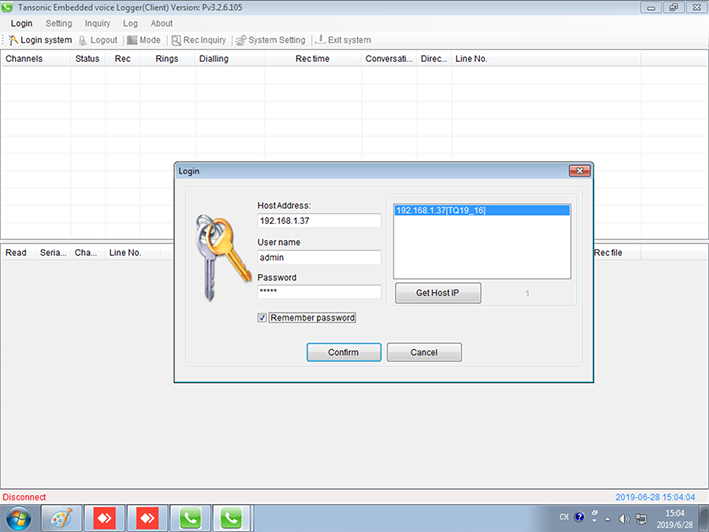 ▶ Description of the front panel of the device. As shown below: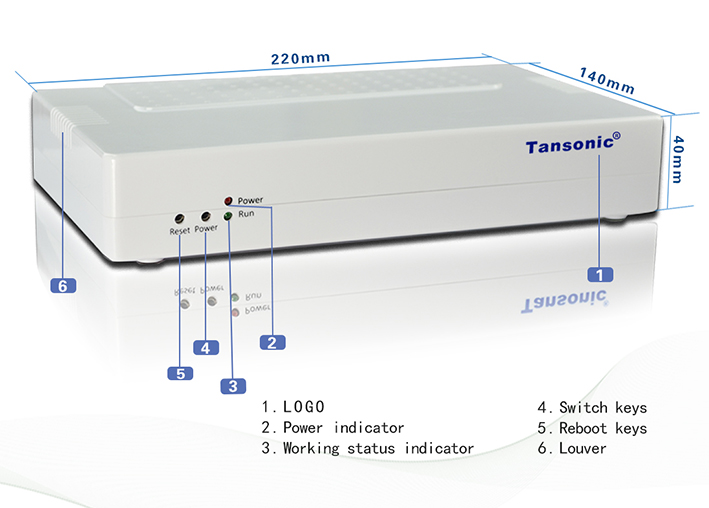 ▶ Description of the back panel of the device. As shown below: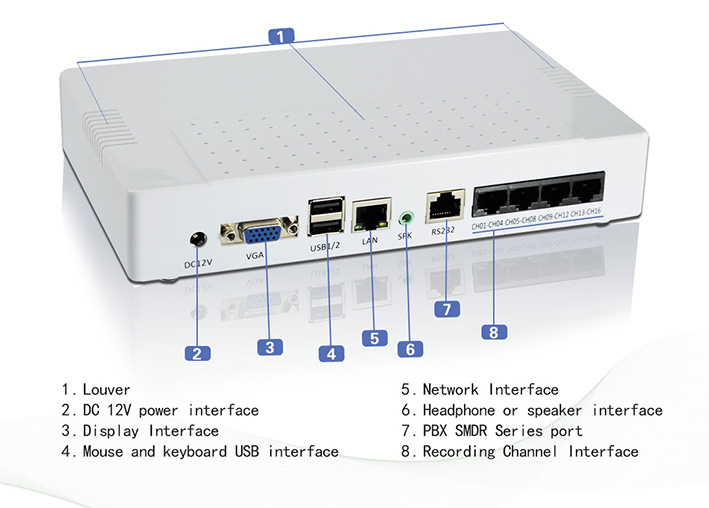 ▶ Diagram of wiring connection method 1, as shown below: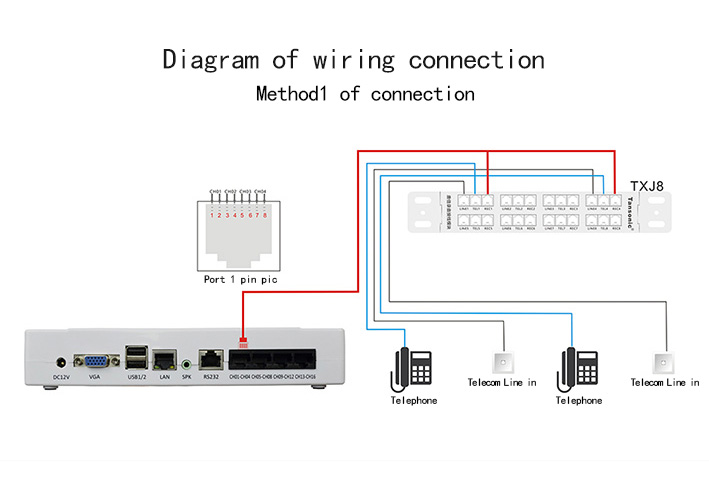 ▶Diagram of wiring connection method 2, as shown below: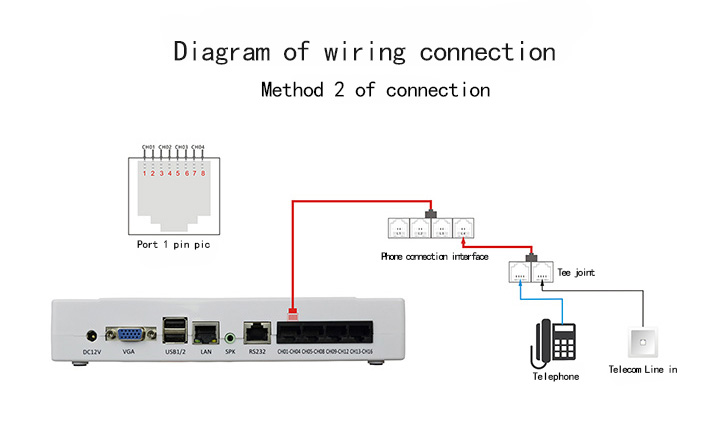 ▶List of product accessories. As shown below: