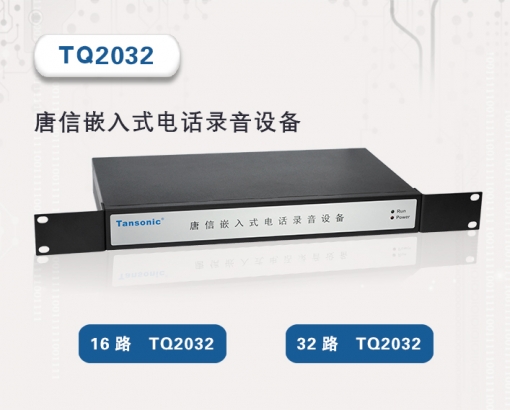 Tansonic Tangxin embedded telephone recording equipment TQ2032 adopts a standard 1U chassis structure, and the material is made of high-strength galvanized steel plate to improve the corrosion resistance of the chassis; it can be installed in a variety of ways, such as desktop or rack. The device is equipped with a high-performance 128G solid-state hard drive to store data, and low-power operation saves energy. Support the expansion of a 2.5-inch mechanical hard drive. Users can realize remote operation management through the network. With DC12V power interface, VGA display interface, USB keyboard, mouse interface, LAN network interface, SPK3.5 mm audio interface, RS232 switch billing serial port, and Tangxin recording interface, ground terminal, convenient for users without the need to resort to other computers or networks Can be directly connected to use after booting, with strong independence. The user can use the line after completing the correct connection.
Product introduction:
Tangxin embedded telephone recording equipment TQ2032 model has two configurations, respectively 16 and 32 channels. The recording channel adopts high-impedance parallel connection, with real-time recording, real-time monitoring, caller ID display, operation log, 8 times compression, missed recording, extension recording, automatic gain, pop-up display, channel voltage test, mailbox alarm, central management, FTP backup data, external network access, smart client, WEB query terminal, cloud storage and other functions. The factory default supports one client (clients can be added) to monitor and listen at the same time, which is convenient for managers to not monitor and manage on the server side. The client only needs to enter the IP address of the recording server to monitor and query within the scope of authority. Simple operation; multiple permission settings, detailed management level; and powerful functions such as department statistics, disconnection alarm, email message notification, and incoming call pop-up screen. It can be widely used in commercial telephone recording, power dispatch recording, hotline service telephone recording, complaint telephone recording, key post telephone recording, financial securities recording, public security alarm recording, security department monitoring telephone, aviation, railway, transportation dispatch recording and Production scheduling recordings in various industries.